Japan: The Higashiosaka Hanazono Rugby Stadium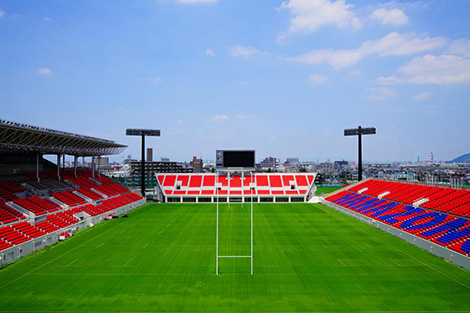 Built in 1929, the Hanazono Rugby Stadium in the city of Higashiosaka is one of Japan's leading rugby specific stadium, long famous as a venue for national high school rugby tournaments. For over ninety years this stadium has been part of the history of Japanese rugby, and it is now rightly considered a mecca for rugby in Japan. Having being chosen to host matches for the 2019 Rugby World Cup, in 2018 the stadium's equipment and facilities were renovated, including the installation of TOA sound systems designed to deliver clear sound to both playing field and spectator stands.
Overview
The Hanazono Rugby Stadium's sound system had been in use for quite a long time, and age-related declines in performance had become conspicuous. Further, the original system had been liable to allow sound to spread out easily, and over the years this had led to noise complaints from adjacent residential areas. Additionally, the aging system tended to cause sound cracking and audibility variations that made broadcasts easy to hear in some parts of the stadium but difficult to hear in others. If the venue was to host the Rugby World Cup, it needed a world-class sound system capable of delivering clear sound to all parts of the stadium, from spectator stands to the playing field.
Compact array speakers with excellent intelligibility and directivity control are distributed around the stadium to create a high-quality, uniform sound field and a sound space full of realistic "presence." Further, the capability to suppress the output of individual speakers by dividing listening areas finely helps to prevent sound leakage beyond the stadium, thereby reducing the potential for neighborhood noise complaints.

The broadcast status within the stadium can also be confirmed visually via computer monitors in the control room, improving system operability and reducing operator burden. Additionally, the system also uses digital wireless technology to help reduce radio interference, mobile sound wagons, and portable speakers, and is designed to accommodate the sound needs of events beyond rugby matches.
Delivery information
| | |
| --- | --- |
| System/Equipment | HX-5B-WP, HX-7B-WP, BS-1020B, DA-550F, WT-D1804 |
| Date of installation | June 2018 |
Japan: The Higashiosaka Hanazono Rugby Stadium Photos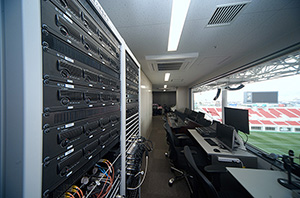 Amplifier Racks in Sound Control Room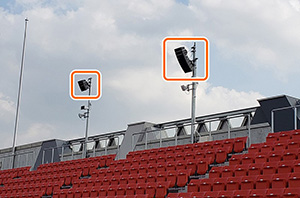 HX-5B-WP Compact Array Speaker facing spectator stand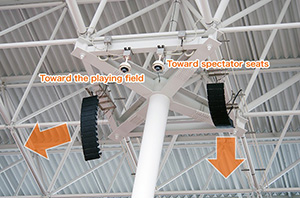 HX-7B-WP Compact Array Speaker facing the field and spectator stand below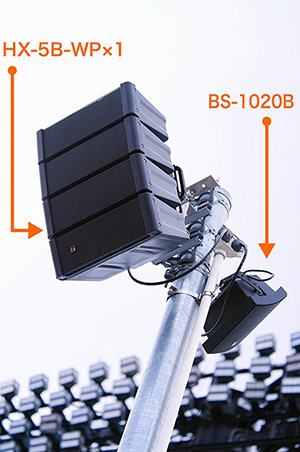 HX-5B-WP Compact Array Speaker & BS-1020B installed on Pole