Comparing Public Address Systems: Which One is Right For Your Event?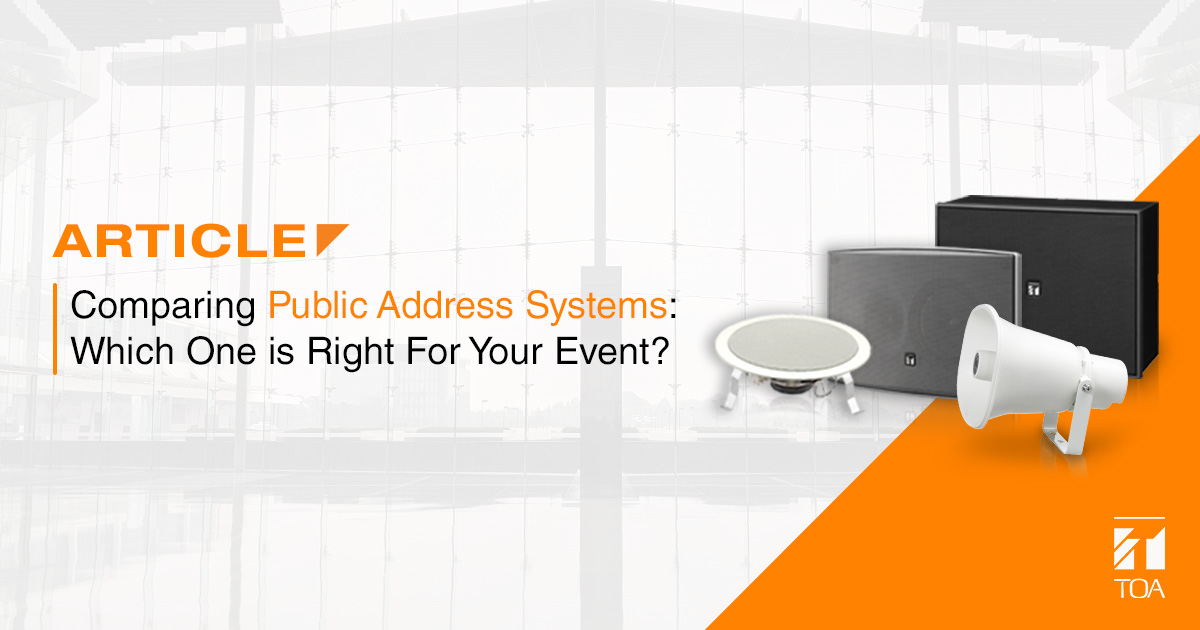 Comparing Public Address Systems: Which One is Right For Your Event?
Choosing the right public address system for your event is critical for delivering clear and strong audio to your audience. However, not all public address systems are created equal. With so many alternatives available, it can be difficult to sort through the various features and specifications. Whether you're planning a conference, a concert, or a sporting event, this guide will help you choose the
best public address system in Singapore
. We'll look at different types of PA systems and analyse their features and benefits for various event circumstances. Understanding the advantages and drawbacks of each system will allow you to ensure that the sound at your event is outstanding and reaches every part of your venue, making a lasting impression on your audience.
Types of PA Systems
■

Portable PA speakers

Portable PA systems are small, adaptable, and easy to transport. They're perfect for small to medium-sized gatherings or settings with limited space. These systems frequently have built-in amplifiers, speakers, and microphones, making setup quick and easy. Portable PA systems are ideal for conferences, seminars, small outdoor events, and gatherings that require mobility and ease of setup.
■

Wireless PA speakers

Wireless PA systems provide mobility without the limitations of cords. They transmit audio signals using wireless technology, which provides flexibility and eliminates the need for challenging cable configurations. These systems are appropriate for events that require mobility and flexibility, such as live performances, outdoor events, and conferences with several presenters.
■

Wired PA Speakers Wired

PA systems use physical connections via wires to transfer audio signals. They are often more robust and reliable in signal transmission, making them suited for fixed installations or venues with specialised wire infrastructure. Wired PA systems are common in theatres, auditoriums, and big meeting rooms.
■

Network PA Speakers

Network PA systems use network connectivity to distribute audio signals across numerous sites. These systems enable centralised control and management, making them ideal for large-scale events, campuses, or venues with extended sound zones. Network PA systems enable you to broadcast different messages or music to specific areas or all zones at the same time.
■

Centralised PA Speakers

Centralised PA systems use a centralised control device to manage and distribute audio signals to multiple speakers across the venue. These systems provide a high level of control and are appropriate for complex installations requiring precise sound distribution. Centralised PA systems are often utilised in stadiums, convention centres, and large-scale events.
■

Decentralised PA Speakers

Decentralised PA systems are made up of numerous independent sound sources that are strategically placed across the venue. Each source may be regulated independently, allowing for localised sound reinforcement in different areas. These systems provide versatility and scalability, making them ideal for events with unique sound requirements or venues with irregular layouts.

It is critical to choose the correct

public address system in Singapore

in order to deliver clear and powerful audio to your audience. If you're seeking a high-quality public address system in Singapore, TOA Electronics is your one-stop shop.

TOA Electronics

, known for its commitment to quality and innovation, provides a diverse range of PA solutions ideal for a variety of events and settings. TOA Electronics' PA systems use cutting-edge technology such as efficient amplifiers, high-quality speakers, and user-friendly control interfaces. Our solutions are intended to satisfy the needs of many applications, ranging from small meeting rooms to big stadiums. Browse through our collection of public address systems in Singapore so you can make an informed selection of the one that best suits your event's needs.