3 Occasions to Use Your UHF Wireless Microphone Sets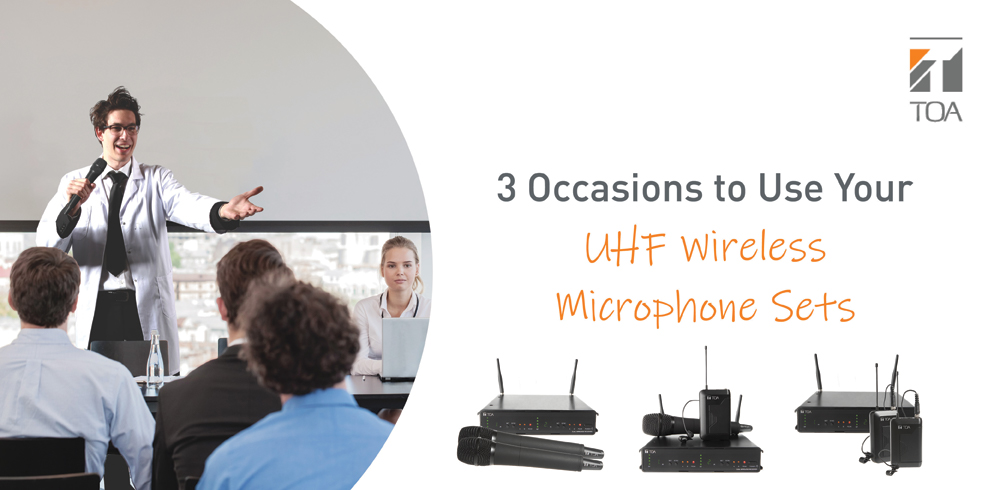 3 Occasions to Use Your UHF Wireless Microphone Sets


Ultra-high frequency (UHF) wireless microphone sets operate at high frequencies between 450 Mhz and 952 Mhz. They have a more stable connection compared to Very High Frequency (VHF) microphones. VHF microphones are also prone to having sound interference. This is why UHF microphones typically broadcast the clearest and best sounds compared to VHF microphones. 
Due to their large and high frequency range, these are the various benefits of UHF microphones:
∙ Prevents sound interference
∙ Stable signal to receive continuous sound information
Let's take a look at where UHF microphones stand out the most. 
1. Areas Where There Is Strong Interference


In schools, teachers may use the UHF wireless microphones during lectures or assembly. With a good operating range, the sound can typically bypass walls and be heard around corners. This is suitable for big lecture halls and assembly areas. 
UHF microphones are also ideal for use in conference rooms and lecture theatres. In these rooms, there is a high potential for interference due to the stong presence of other different frequencies. UHF wireless microphones are advantageous due to their wide range of frequencies. 
It is difficult for other external frequencies to interfere, giving users the luxury of clear, uninterrupted sound. The frequencies can also be easily changed to avoid interference.
TOA's UHF
WS-400-AS series wireless microphone set
provides a solid wireless transmission with up to 16 channels* in dual channel mode. 
2. Sound Quality is Important


UHF microphones emit a stable signal to receive continuous information, with clear sound quality. They have a lesser signal delay between microphone and tuner. 
This is especially important in live stage performances and professional television or radio broadcasting, where microphones have to work properly to quickly deliver sound to the audience loudly and clearly. 
With an agile frequency system, multiple frequencies can be chosen to avoid interfering with local television channels nearby, ensuring a successful recording with no dropouts. To further improve the sound quality, look for a microphone set that can reduce ambient noise, so crystal-clear sound can be broadcasted. 
3. Greater Range of Motion


Wired microphones give you a limited range and mobility. Why not cut the cord and enjoy the freedom of movement with wireless microphones? Not only is the microphone untethered, but if can also be hung or clippped on the user while he is moving around. 
Available in handheld and lanyard types, with the option of connection a headset or lapel, TOA microphones feature high sound quality and longer battery life. 
If the user prefers handheld microphones, the TOA's UHF WS-400-AS series microphones also fit comfortably in the hand. Better yet, they only require 1 AA battery to operate so it is easy and inexpensive to set up. 
Get Your UHF Wireless Microphones Today


From on-stage concerts to conference rooms and lecture theatres,
UHF wireless microphone sets
are the perfect equipment for various possibilities - all optimized for speech, vocal or instruments. At TOA Electronics Pte Ltd, our mission is to supply you with high-quality equipment with first-class sound. Check out our latest range of UHF
WS-400-AS series wireless microphones
available in Singapore.