Why Getting The Right Digital Mixer Amplifier Is Important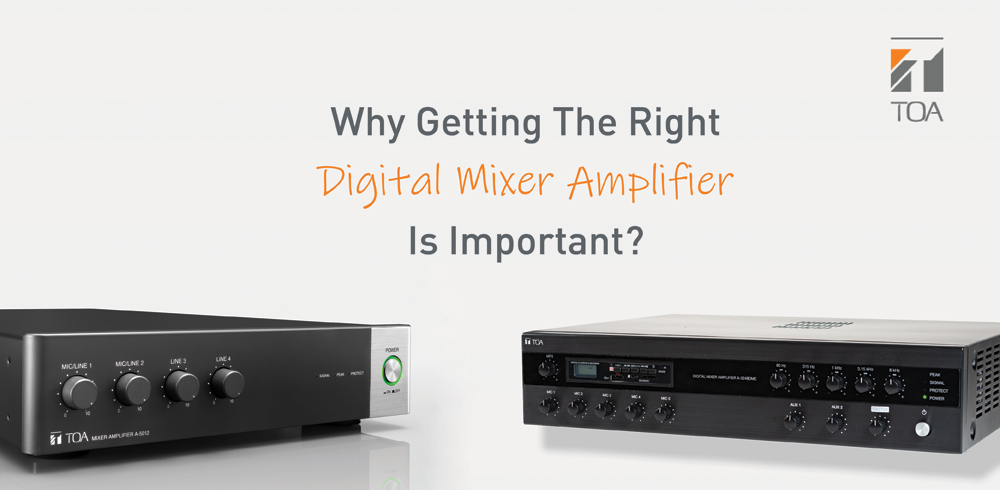 Why Getting The Right Digital Mixer Amplifier Is Important


A digital mixer amplifier is a cost-effective solution for individuals who are looking to maximize their sound performance with minimal audio equipment. It is a combination of a mixer and an amplifier, all rolled into one solid, high-performance machine.
Digital mixer amplifiers are also energy-efficient. You save up to 80% of energy by using a digital mixer amplifier, instead of using separate models of mixers and amplifiers.
The
digital mixer amplifier
is becoming a piece of popular audio equipment used in Singapore for broadcasting, paging, or background music in schools, offices, shops, houses of worship and even large ballrooms.
So why is it important to get the right digital mixer amplifier?
1. Your broadcast can be heard loud and clear


Wattage is one of the key things to look out for when choosing the right digital mixer amplifier because without proper amplification, your broadcast, paging or music cannot be heard well even if you have the largest speaker system. A good digital mixer amplifier has a minimum of at least 60W.
Look for
digital mixer amplifiers that come with equalizer functions
. You can adjust certain frequencies to balance the venur's acoustics so it is at a comfortable sound level. 
2. Easy installation and configurations


A good digital mixer amplifier will be easy to install, configure and use. 
With various wires and connections to look out for, setting up your audio equipment can be a real hassle. It does not have to be this way anymore. There are digital mixer amplifiers that comes with removable terminal block connectors so  that you can easily snap your wires in. 
Even after installation, configuring your digital mixer amplifier well is imporant to get solid, reliable sound that does not drop off midway. Some amplifiers have assignable MOH/Second Zone source assignment and access to mute priority and other settings via rear-panel DIP switches.
With these features, it is simply a breeze to adjust your broadcast accordingly on-the-fry.
3. Gives you greater versatility and flexibility


Be it in size or operation, good digital mixer amplifiers give the user more versatility and flexibility.
The amplifiers have a
light and compact format
, without any compromise on their performance. They are also typically easy to carry or if needed, mounted on a rack mounting bracket. This is more suitable for users who operate their digital mixer amplifiers in small environments with little floor space. 
Digital mixer amplifiers that give you a bang for your buck will come with a wide variety of input modules that support a range of connections. These connections include MP3, FM radio, Bluetooth and selected zones. 
Rock your venue with the right digital mixer amplifier


It is hard to find a good digital mixer amplifier in Singapore with all the features previously listed. But our A-3200D series digital mixer amplifiers check all the above. Be it broadcasting, paging or background music, our amplifiers take care of all them for you. 
At TOA Electronics Pte Ltd, our mission is to supply you with high-quality equipment with first-class sound. Check out our range of
digital mixer amplifiers
in Singapore.